Seoul Semiconductor's SunLike Series LEDs are the world's first natural spectrum LEDs, as they produce light that closely matches the spectrum of natural sunlight.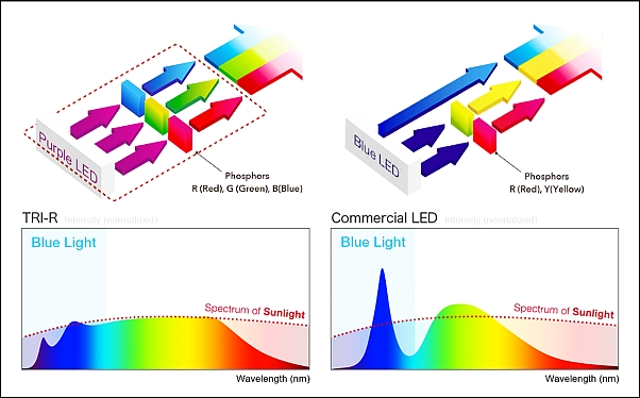 This achievement comes from using a new LED architecture, with a purple emitter in combination with a red, green, and blue (RGB) phosphor mix, unlike conventional white LED that use a blue emitter and yellow phosphor. By removing the blue LED light source and replacing it with a purple light LED chip, lighting technology is fundamentally transformed. For the first time it is possible to render colors accurately with very low energy use and positive effects on health. Compared with other LED lights, the new SunLike Series does not have a blue energy peak associated with eye discomfort and poor sleep patterns.

Furthermore, an ordinary LED spectrum is very different to sunlight, whereas SunLike's spectrum is very similar. Thus, the light sources with SunLike Series LEDs will more accurately show the color of objects, as they would appear in natural sunlight. It's natural light spectra has color rendering of CRI-97 – close to CRI-100 of sunlight, and much higher than the CRI-80 of conventional LEDs.


The SunLike packaged LED technology from Seoul is based in part on a Toshiba phosphor technology called TRI-R. By using the TRI-R, the LEDs deliver a uniform and broad spectral power distribution (SPD) that is more like sunlight than are typical phosphor-converted white LEDs.

The applications of this new LED technology, with its diminished blue light peak, similar spectral curve to sunlight, accurate rendering of colors and reduced scattered reflection and glare are many, from Human Centric lighting for our home and office to commercial and art lighting.